Challenger's First Major League Free Flight – Atlanta Braves Home Opener April 4, 1997
Bald Eagle Challenger turns 30 in April, 2019. He has been an educational ambassador for over 20 years, flying in stadiums all across our nation. Each of the events has been special, and there are countless photos and write-ups that have appeared in magazines and newspapers whenever Challenger flew.
But there had to be a FIRST TIME for Challenger to fly in a major league baseball stadium, with tens of thousands of people watching as our National Bird flew majestically overhead during the National Anthem.
Challenger's First Time came on the night of April 4, 1997.  The Atlanta Braves – the hottest baseball team of the 90s – had a new stadium, Turner Field, and this was their home opener! To honor the occasion, many celebrities were on hand, including former President Jimmy Carter and his wife Rosalynn, the Governor of Georgia, Zell Miller, and Hank Aaron—the greatest home-run hitter of all time!
The Atlanta Journal-Constitution had a huge write-up about this event on April 5. There was electricity in the air as a "roaring sellout crowd of 45,044" stood on its feet to welcome Hank Aaron into the arena. Hank was carrying the home plate from Atlanta-Fulton County Stadium into the new Turner Field. The scoreboard turned the clock back to 1974 and replayed Aaron's home run that broke Babe Ruth's record.  Tom Glavine, star pitcher for the Braves, greeted Hank at home plate and together they placed the old home plate over the new one.
As stated in the Atlanta Journal-Constitution:
"Aaron's appearance was nearly upstaged minutes later by Challenger, a Bald Eagle that drifted from the $1 skyline seats in the upper deck over right field, swooped over the dugout, circled the infield and alighted on the wrist of its handler [Al Cecere], who stood on home plate. The bird preened as wild applause erupted".
PHOTOS OF THE EVENT
All credit to the Atlanta Braves Archives Department for locating these photos and then graciously allowing us to reprint them on our website! Special thanks to Sam Wallace, Ballpark Tours/Braves Heritage and Hall of Fame; and to Katie Hearn, Coordinator, Digital & Assessable Services.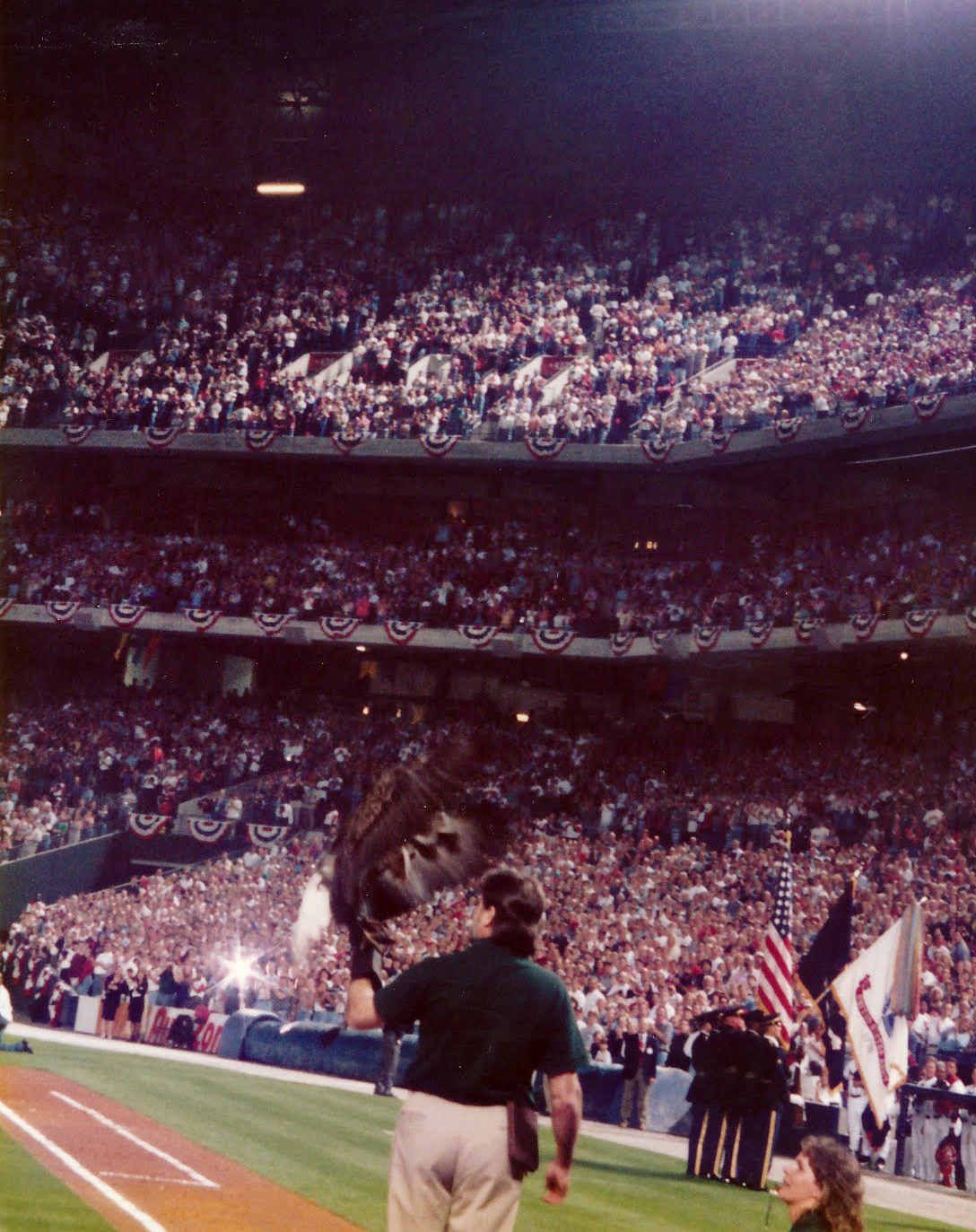 Challenger lands on Al Cecere's glove following a specular flight during the National Anthem. Photo ©Braves Baseball Archives.
Challenger's first major league appearance went perfectly! Photo © Braves Baseball Archives.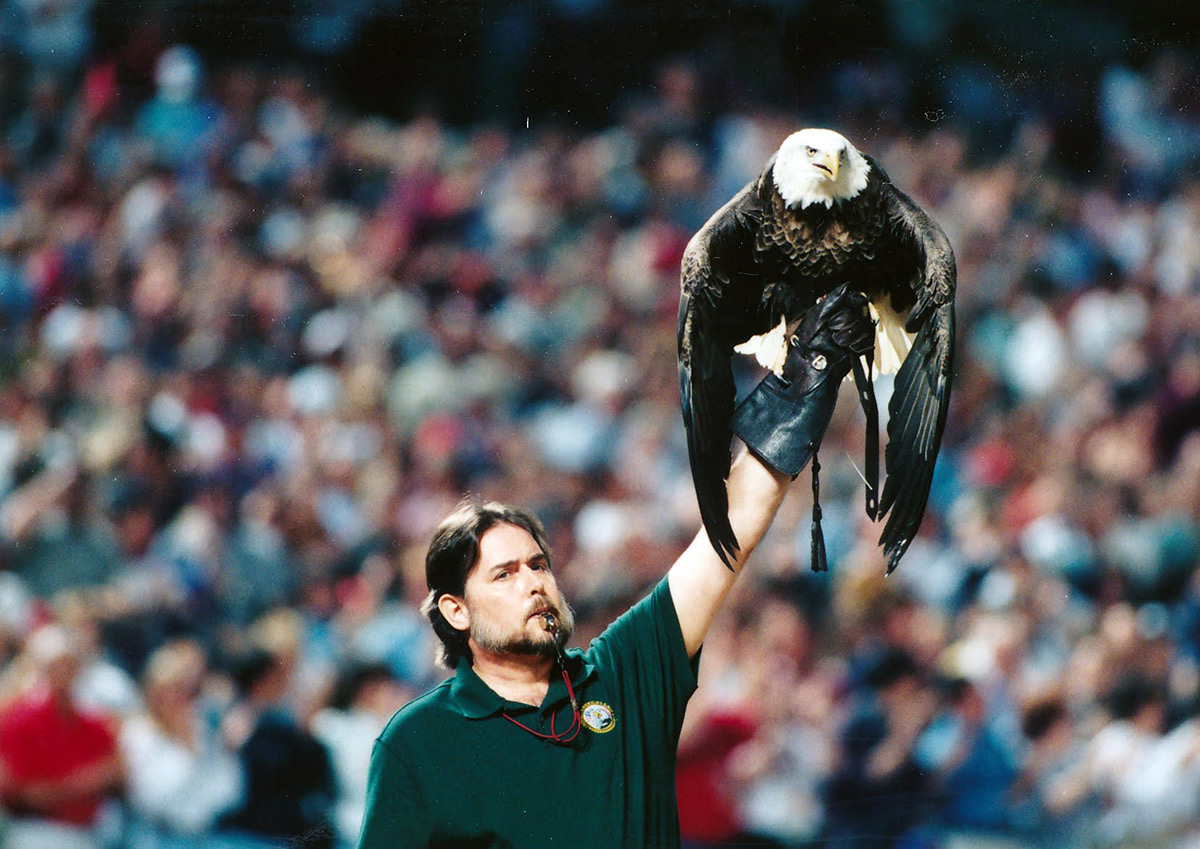 Al presents Challenger to an enthusiastic crowd at Turner Field. Photo: ©Braves Baseball Archives.
A star-studied lineup of baseball's best players greets Challenger and Al. Players shown include (from far right) Ryan Klesko, John Smoltz, Keith Lockhart, & Mark Woolers. Photo: ©Braves Baseball Archives.